Golden Laser is glad to inform you that we will be attending Wire & Tube 2022 in Düsseldorf from June 20th to 24th, 2022. Due to the effects of the coronavirus, the fair will be postponed to this new date.
Golden Laser will meet you in Germany as scheduled in the midsummer of June. We will show you a professional bevel laser tube cutting machine and a 3D robot laser cutting machine with a closed structure. Welcome to our booth!
● Address:
Dusseldorf Exhibition Center
Ostfach 10 10 06, D-40001 Dusseldorf Stockum Church Street 61, D-40474, Dusseldorf, Germany- D-40001
● Booth: HALL6- I18
● Time: June 20-24, 2022
● Exhibits:
Model 1: Intelligent Bevel Laser Tube Cutting Machine P2060A-3D
Model 2: 3D Robotic Laser Cutting Machine with Closed Structure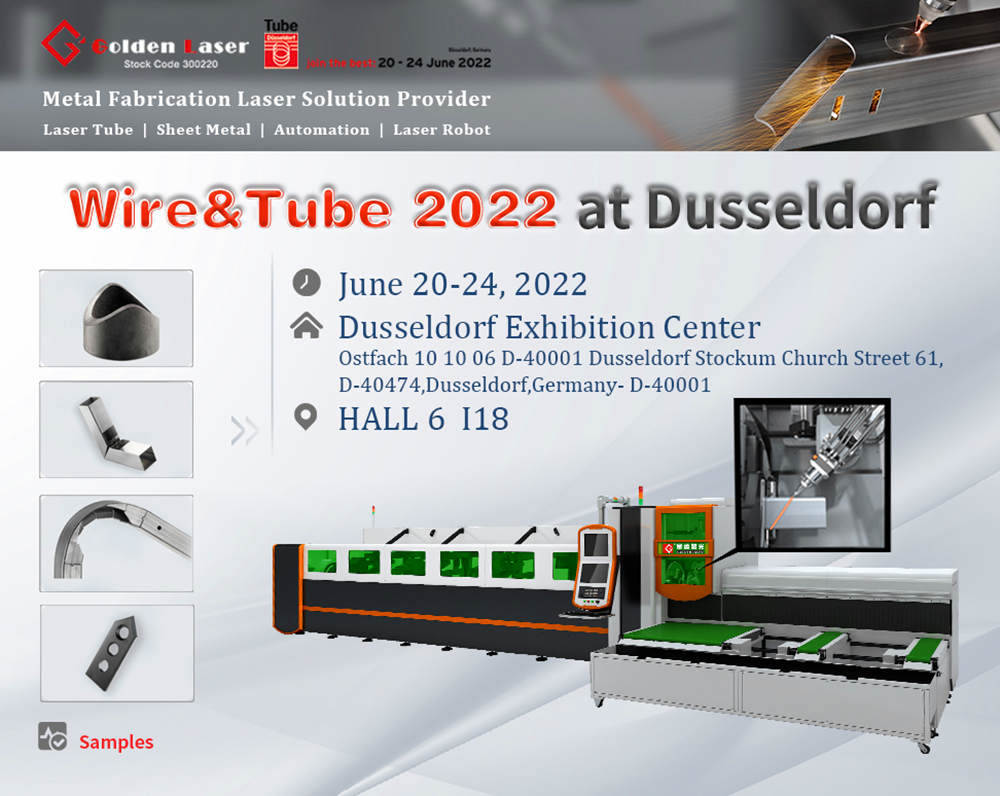 About Tube 2022 Düsseldorf:
The Tube is the world's leading exhibition for the pipe industry and thus the most important showcase for all professionals manufacturing, processing, and using pipes. Focal product groups are including raw materials, pipes, and fittings, machinery for pipe manufacturing, process technology tools and related tools, measuring, testing, and control technology, profiles, and associated equipment as well as used machines for the mentioned areas.
Golden Laser will show you the excellent laser cutting machines:
Model 1: 3D 5-axis Bevel Laser Tube Cutting Machine P2060A-3D
● Experienced the unlimited possibilities of laser tube cutting
● Swivel laser cutting head, bevel cutting machine, making seamless splicing easier
● Reduce the cost with the advantage of tube processing
● Technical parameters:
√ Diameter:
round φ20mm- φ220mm;
square20mm*20mm- 140mm*140mm
√ Laser power: 1500W/ 2000W/ 3000W/ 4000W/ 6000W
√ Bevel angle: max ±45°
√ Laser head: Golden Laser design/ Germany LT ULTRA
√ Max rotate speed: max 130r/min
√ Acceleration: 1.5g
3D 5-axis Laser Tube Cutting Machine P2060A-3D / P3080A-3D
Model 2: Three-Dimensional Robot Laser Cutting Machine with Closed Structure
● We will show you the pipe cutting of elbows, the longest shape of elbows is less than 650mm. The parts are fed in and out of the linear slide table. The whole robot laser cutting machine is equipped with observation windows and laser protective glass. A monitor is arranged next to the operation area to observe the internal operation of the equipment.
● Enclosed structure to prevent leakage of harmful substance during laser cutting
● Equipped with built-in air dust, which can purify the internal environment of the 3d robotic laser cutting machine through the external dust collector
● Isolate the working area of the operator and the mechanical equipment to avoid mechanical damage during laser cutting.
● Simple operation and automation
● Optional floor rails to extend the robot's range of motion.
● Equipped with a waste conveyor, the waste generated during the laser processing can be automatically transported to the designated area.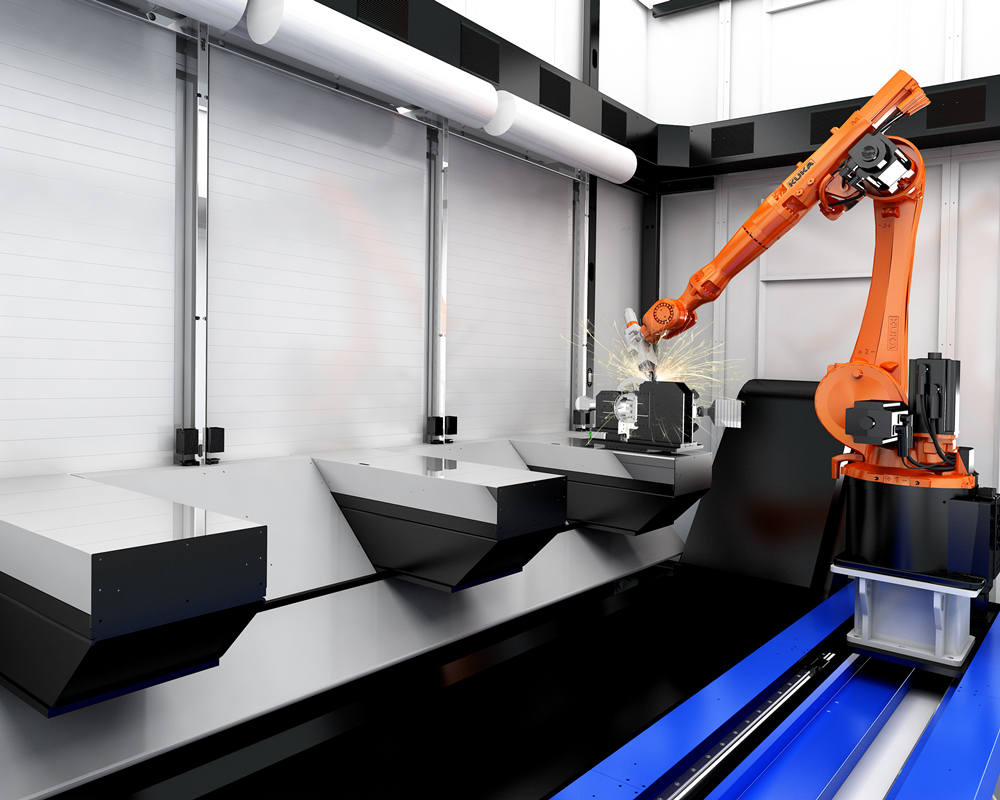 Golden Laser 3D Robot Laser Cutting Machine
Golden Laser has made significant growth in the fields of metal sheet laser cutting machines, laser cutting metal pipe machines, and fibre laser welding machines. The metal sheet cutting series include a fully enclosed exchange table series, sheet and tube Combo-series, open type laser cutting series, and precision small- format laser cutting series. The tube laser cutting series include automatic tube cutting series and semi-automatic tube cutting series.
Welcome to Wire & Tube 2022, and win more opportunities with Golden Laser!