EMO Hannover 2023 world tour, the world's leading fair for production technology, is coming to you. At EMO Hannover 2023, Golden Laser aims to engage with industry professionals, providing them with firsthand experience in laser cutting technology and laser welding technology. You will witness Golden Laser's machines' superior performance and reliability through live demonstrations and interactive sessions.
Find out more about EMO Hannover 2023: https://emo-hannover.de/en
Welcome to EMO Hannover 2023 with Golden Laser:
● Address: Deutsche Messe AG, Hannover, Germany
● Booth: Hall 013, stand C69
● Time: 18 - 23 September 2023
● Exhibits:
Laser Machine 1: laser tube cutting machine P2060A-3D 3kw (220mm chuck, 6m auto loading, Raytools 3D bevel head cutting, 3kw Max fiber laser power, PA controller, Lantek software)
Laser Machine 2: fiber laser cutting machine GF-1530JH 6kw (1.5mx3m, exchange table, 6kw Max fiber laser power, BOCI BLT641 head cutting, HypCut8000 controller, CypNest software)
Laser Machine 3: handheld laser welding machine R1500 (1.5kw Max fiber laser power, wire feeder)
Laser Machine 4: laser source repair tools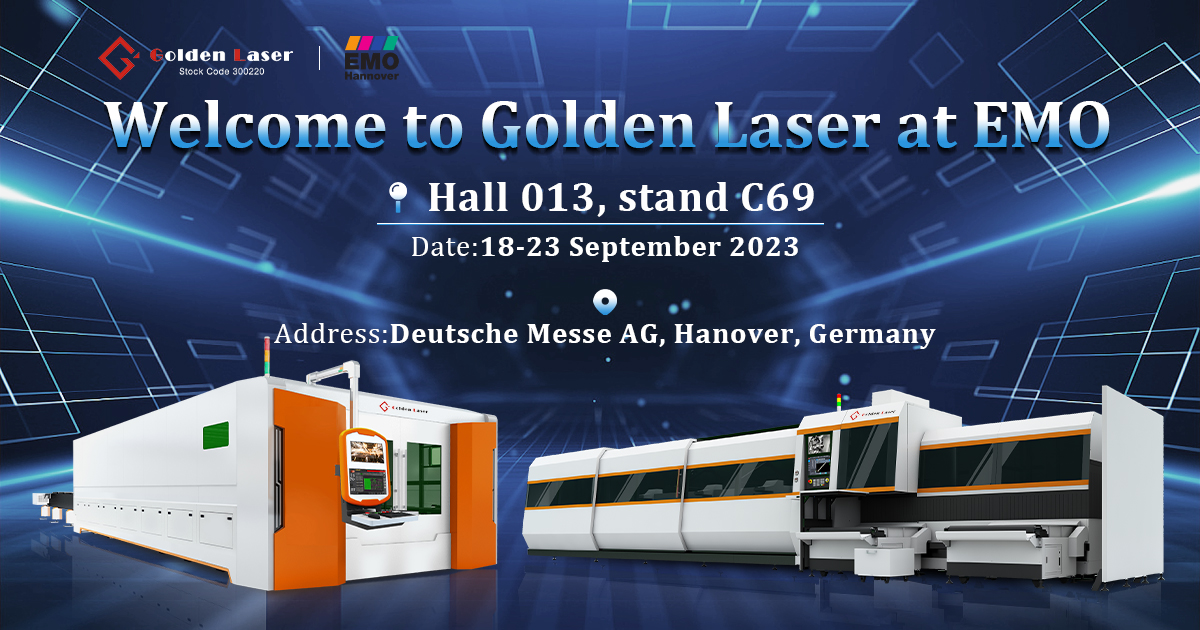 Whether you are interested in fiber laser cutting machines, laser tube cutting machines, laser cutters, laser welding machines, or laser pipe cutting machines, Golden Laser promises to showcase the best-in-class solutions that will revolutionize the world of production technology. Take advantage of this opportunity to witness the future of manufacturing in action!