Golden Laser is glad to inform you that we will attend EuroBLECH 2022 in Hannover from October 25th to 28th. As one of the professional fiber laser cutting machine manufacturers in the world, we certainly will not miss this grand exhibition. After a four-year absence, GoldenLaser will come back strong, we would like to bring the main applications of laser equipment in the industry and the latest trends in CNC laser pipe cutter machines and fiber laser tube cutting machines as well as robotics and automation. Golden Laser sincerely invites you to discuss more laser technology, if you need free tickets, please feel free to contact us!
Golden Laser's Exhibition Booth Information
● Address: Hanover Fairground;
Messegelände Hannover, 30521 Hannover, Germany
● BoothNo.: HALL-12-B06
● Time: October 25-28, 2022
● Exhibits:
Model 1: Fiber Laser Cutting Machine for Sheet Metal Working with Beckhoff laser system
Model 2: 3D 5-axis Laser Tube Cutting Machine
Model 3: Robotic Laser Cutting Machine Cell (Flexible and Automated Production Line)
Model 4: Handheld Laser Welding Machine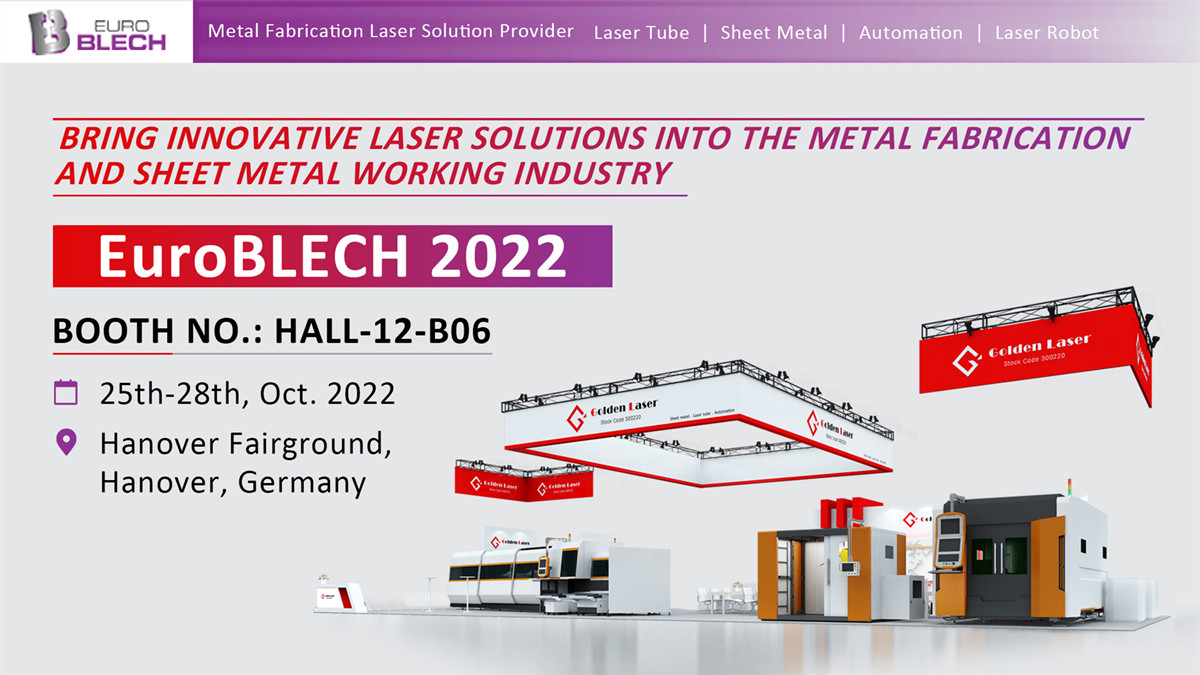 EuroBLECH 2022 Introduction :
EuroBLECH 2022, the world's leading exhibition for the sheet metal working industry, is your gateway to a smarter future. EuroBLECH is specifically targeted at the sheet metal working industry, it is thus the platform for international fiber laser cutting machine manufacturers and suppliers to the sheet metal working industry.
As a vertical trade show, EuroBLECH covers the entire sheet metal working technology chain and offers the industry sector a unique marketplace for knowledge transfer, individual manufacturing solutions and worldwide business contacts.
What Will Be Exhibits at EuroBLECH?
A clearly structured exhibition profile covers the entire sheet metal working technology chain:
Sheet metal, tube, sections (ferrous and non-ferrous)

Finished products, components, assemblies

Handling

Separation, cutting

Forming

Flexible sheet metal working

Tube / Section processing

Machine elements

Processing of sheet metal / plastic hybrid structures

Joining, welding, fastening...